Since 1975, Dr. Hooper and Ear-Tronics have been helping patients. For the past 4 decades, we have manufactured our own line of hearing aids in our own lab in Fort Myers. In addition to Hearing Aids, we manufacture custom ear molds, sound suppressors for hearing protection, and in-the-ear monitors for music enjoyment.
Find a Location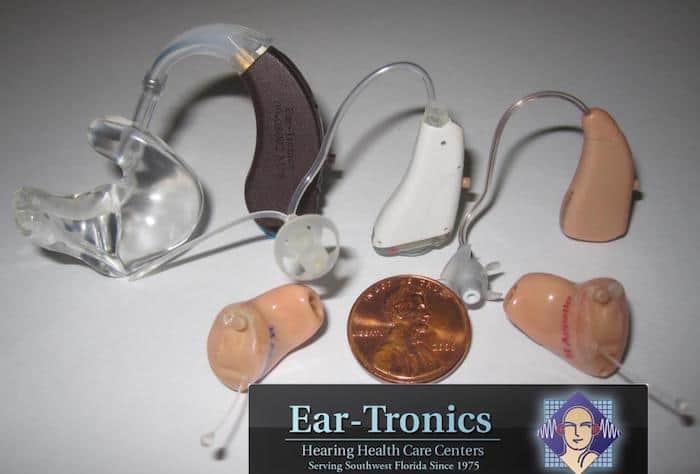 Benefits of In-House Manufacturing
Hands-On Expertise
While other hearing specialists and audiologists may provide a diagnosis and recommendations for hearing aids, we provide another layer of hands-on expertise. At Ear-tronics, we provide professional hearing testing and hearing aid fitting, and with our in-house manufacturing, we are also experts in the intricate ins-and-outs of hearing aid mechanics. In building our own hearing aids, we have a deep understanding of hearing aid construction, and we are well-versed in the latest digital and digitally programmable hearing technology.
Expert Repair on Location
For complicated repairs, most hearing specialists will send out your hearing aids to the manufacturer or a certified repair specialist. This process may take a long time, and all the while you are going without hearing assistance. At Ear-tronics, we repair hearing aids from any manufacturer right at our lab without the lengthy process of shipping aids back and forth.
Keep It Local
Ear-tronics has supported better hearing in Southwest Florida for decades. Our clients appreciate the benefit of having their aids produced locally. As an independently owned business, Ear-tronics ensures excellent working conditions in our lab – and since we're local, you may even know some of the people designed and manufactured your hearing aids!
Ear-tronics Manufacturing Process
Our process takes place with four important components: shell making, assembly, testing, and engraving. Here is a peek behind the scenes at each aspect of our process.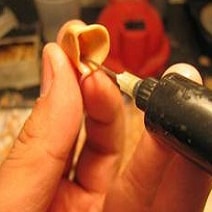 Shell Making
We begin with shell making, using the impression of the shape of your ear as our starting point. We dip the impression in a special wax that will keep it from sticking to the silicone, and then the impression is placed in a plastic cup. This cup is then filled with silicone and left to dry for a few minutes. The impressions are taken from the solidified silicone and cut to match the specific shape of the aids you desire.
After cutting, the impression is buffed and filled with duplicoid material. The impression is then removed from the solidified duplicoid, and that duplicoid is filled with acrylic material. This acrylic piece can be "cured" in a UV chamber. The solidified acrylic is taken out of the duplicoid material, and there you have it: a hearing aid shell!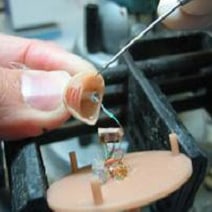 Assembling
At the assembly phase, several components must be put together into the hearing aid shell. The shell will first be trimmed to the appropriate length for your aids and inspected. A vent is added to the shell with an acrylic material, and a UV tool is used to dry the acrylic and complete the vent. This vent is also fully inspected to make sure that it is sufficient. Holes are made in the end plate to hold the various components, which are then placed in the holes. A circuit is prepared and soldered onto the plate. The shell is now applied to the plate with an adhesive, and the plate is cut precisely to the shape of the shell. The plate is further ground and buffed for smoothness.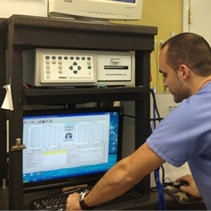 Testing
At each phase of assembly, we test the components to make sure they are functioning properly. Once the aids are assembled, we also test the entire aid to make sure it is fully functional. Using hearing aid software, we test the aids to make sure they work perfectly, and then we program them to meet criteria. A test is printed out for the audiologist to demonstrate a match with your hearing needs.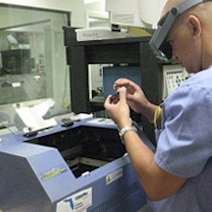 Engraving
In the final phase of engraving, we make sure that the aids indicate all the necessary specifications for industry standards. As you can see, our process is quite complete, and we are able to arrive on the other end of our detailed process with hearing aids that have been thoroughly tested to meet all of your hearing needs.